Goldman Fellows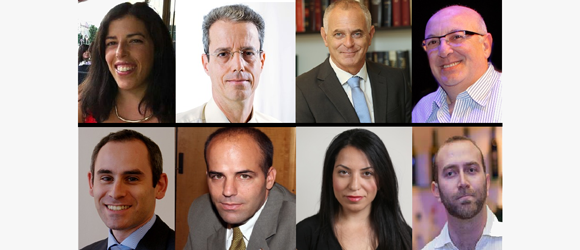 ​
The Richard and Rhoda Goldman Fund established the "Richard and Rhoda Goldman Fellowship Fund for Better Government" at the Hartog School in Tel Aviv University in order to improve and advance civil service in Israel.
The prestigious program supports excellent research students of Tel Aviv University who plan on a career in government (Junior Fellows), as well as senior and mid-career civil servants (Senior Fellows).
Senior Goldman Fellows: The fellows are associated for a year with the school, developing a policy oriented project designated to be implemented within their governmental office. The Fellows propose which project to develop based on their professional experience, and are expected to work quite independently during their year of fellowship. For recent call for proposal (in Hebrew) click here.
Junior Goldman Fellows: Junior fellowships will be awarded annually to TAU PhD and Master (with thesis) students who show unusual promise for the public sector and political institutions, and who have excellent undergraduate records.
2017-2018 (Current) Fellows:
Senior Fellows:
Hagar Shoham is currently an associate researcher at the Department of Political Science in Tel Aviv University. In addition, she is an M.A. student at the Department of Sociology in the Open University.

Her thesis will focus on the relation between gender, symbolic capital and woman employment in the public service in Israel. Her research interests include gender studies and regulation with an emphasis on woman employment.

Her project in the Richard and Rhoda Goldman foundation focuses on developing an automatic reporting interface, aims at facilitating patients with serious diseases to face bureaucracy in Israel.
Guy Bar-Nes is the Senior Director of Training and Development at the Israeli Parliament (The Knesset). In this role, he leads training and development for more than 600 employees across a wide range of sectors including management development. Guy's department is planning and executing dozens of seminars, courses and workshops throughout the year. In 2015 he led the initiative to create a one-of-a-kind, Parliamentary Advisors Course. The course has become an ongoing annual program that covers, among other topics, parliamentary processes, communication, media and public relations.
Prior to this position, he held various positions at the Research and Information Center of the Israeli Parliament including Research Team Leader, Information Technology Advisor and a Senior Researcher.
Guy holds a BA degree in Economics, Political Science and Sociology (cum laude) and an MA degree in Sociology majoring in Social psychology, both from Bar-Ilan University. Guy's thesis was recognized by the coveted 2003 Rabin Outstanding MA Award program.
Guy graduated from the Global Parliamentary Processes course at the National School of Administration in Paris. He also participated in the Global Legislation, Governance and Information Systems program held by United States Department of State.


Adi Yoffe is a trend-forecasting expert and Business Futurist. For the last 10 years, Adi has been analyzing and predicting consumer trends. During these years, provides services to large & multinational companies in Israel regarding future trends and its impact. Adi is a pioneer in the field and operates according to accepted global methodologies.

During these years, Adi has lectured on various stages and in front of a variety of forums. Prior to that, Adi was the Marketing Director and Client Relations of the Israeli practice of Deloitte.
​
​Adi holds a Master degree in Philosophy, (with distinction) from Tel Aviv University, and a B.A. in Communication & Sociology and Anthropology, from Haifa University
Adv. Roi Mekler is the Founding Director of Co.Lab, UJA Federation of New-York flagship initiative in Israel.
Roi is also the Founder of ACDF, Alumni Communities Directors Forum, and of Midrasha LeMaase – an educational enterprise for Mechinot (pre-army preparatory) graduates, encouraging participants to get involved with tackling national and Jewish issues. In addition, he lectures in academies for social leadership, where he teaches courses on law and Israeli society.
Roi was a program director at the JDC Institute for Leadership and Governance, where he established government networks that bring together senior leaders for social empowerment, and managed and convened governors' forums. Before that, Roi was educational manager at MiBereshit Foundation for Jewish Renaissance. Roi is the VP of the Audit Committee at the MASA Israeli. Roi Learned at the Excellence MA Program and Law Faculty of the Hebrew University and serves (now in reserve duty) in the IDF Combat Rescue Unit 669.

​Junior Fellows:


Aliza Forman Rabinovici is a PhD candidate in the Tel Aviv University School of Political Science, Government and International Relations, specializing in comparative politics and quantitative method. Her research interests include gender and public policy, and public policy relating to the family and the status of women. Past projects have explored the relationship between religion and women's welfare policy, and determinants of state abortion policy. Her current research project focuses on the efficacy and outcomes of electoral gender quotas.
Aliza is a graduate of the Israeli Defense Force Officers School (outstanding cadet award) and a graduate of the Tel Aviv University, where she double majored in Political Science and Communications (Summa Cum Laude). She has been a recipient of many academic awards and scholarships, including the Tali Gordon Prize for Academic excellence, Dean's list recipient, and the Mirella Haggiag Research Grant. She has worked as a policy consultant and researcher for a variety of government, political and non-profit institutions.

Shira Bukchin is a graduate student in the Department of Public Policy at Tel Aviv University, and holds a B.Sc. in Biology from Tel Aviv University. Her research focuses on smallholder agriculture exposure to climate change, technological choices of small-scale farmers and environmental behavior.
In addition, Shira has rich body of experience as the development training manager in an organization that offers training in personal and social resilience for youths and adults. Shira has recently created a new set of workshops that focus on sustainability and the environment, emphasizing topics such as social and personal responsibility, and understanding the impact of everyday actions on future realities.
Yoav Rothler is a Ph.D. student of the Department of Public Policy in the Faculty of Social sciences, Tel-Aviv University. His academic work is based on a series of field experiments held in India, analyzing various dimensions of agricultural policies and smallholder agricultural activity. Yoav holds a B.A. in sociology, anthropology and economics from Ben Gurion University and an M.Sc. in agricultural economics from the Hebrew University of Jerusalem.
Yoav has long standing interest in development economics, and besides his academic work, he has gained much experience in the private and public sectors. Yoav has conducted feasibility studies for agricultural and rural development projects for various NGOs, public institutions and private companies in many developing countries including Angola, Azerbaijan, Georgia, Honduras, India, Ivory Coast, Nigeria, South Sudan and Sri Lanka. Yoav has also served as a consultant for Israeli government ministries including the Ministry of Agriculture, the Ministry of Environmental Protection and the Prime Minister's Office.

Tomer Fadlon is a PhD candidate at the School of Political Science, Government and International Relations at Tel Aviv University, where he also teaches. His PhD thesis, titled "Bombing Civilians in Symmetric Wars", is being written under the supervision of Prof. Azar Gat and focuses on the decision-making process which eventually leads to the bombing of civilians. He also teaches many courses in the department such as "The Politics and Diplomacy of Sports", and is also a teaching assistant for Prof. Azar Gat's course on "Strategy in the Modern Era" and for Dr. Tal Sadeh's "Political Economy" course. He holds a B.A. in History and Political Science and Master's degree in Diplomacy, both from Tel Aviv University. His Master's thesis is titled is "Experiments on Humans for Military purposes, the Case of Nazi Germany". Mr. Fadlon has also won the Inbar Scholarship for academic distinction, and numerous prizes for his teaching abilities, among which was the Tel-Aviv Rector's Prize for Distinction.

Omer Solodoch is a PhD candidate in the Tel Aviv University School of Political Science, specializing in political economy, political behavior, and immigration. In his dissertation, entitled "Economic and Political Impacts of Forced Migration: Quasi-Experimental Evidence from Israel," he explores the implications of immigration inflows to host countries. In this project, Omer examines how and why the interaction with immigrants shapes the political behavior of natives, e.g. in the form of turnout and voting patterns.
Prior to his PhD, Omer attended Tel Aviv University, where he received his B.A. in economics and political science (summa cum laude), and his M.A. in political science (summa cum laude). While at Tel Aviv University, Omer served as a Teaching Assistant for Political Economy; Research Methods; and Scientific Writing. In recognition of his teaching, Omer was awarded the Tel Aviv University "Top 100" Teaching Assistant Award in 2016.


​Previous Goldman Fellow Scholars:
2016-2017
2015-2016
2014-2015
2013-2014
2012-2013
2011-2012
​2010-2011
2009-2010