Studies in developing countries are interesting and challenging at the same time. In addition to the exposure to special communities and to their unique stories, from my point of view, it is the deepest way of understanding challenges in developing countries and the approaches to solve it.
On one hand, the attempt to implement new technologies and developed methods in order to solve relevant problems, and on the other hand, the expected and the unexpected challenges which arise through mental and cultural differences. ​The studies provide tools for understanding and containment of the local community which is different from you and the creativity to solve existing problems.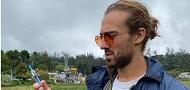 Working in India is an adventure. The mission is research, and the setting is the beautiful country and culture of different states in India. Like any adventure, it's challenging in new ways, and it's rewarding in new ways too.  Fundamentally the research is applied, novel, important, and grounded firmly in extensive field research. Our Indian partners share this vision, and their achievements demonstrate their continuing excellence. In the several months Nitsan fellows spend researching in the field, they can expect to work on projects with significant impact. It's not always easy, real adventures rarely are, but it's an amazing opportunity to develop new skills, new friends, a newly broader perspective, and very high calibre research. For those who want it, I cannot recommend it enough.

 
Student and Academic Coordinator