About the Haim Herzog Institute for Communication, Society and Politics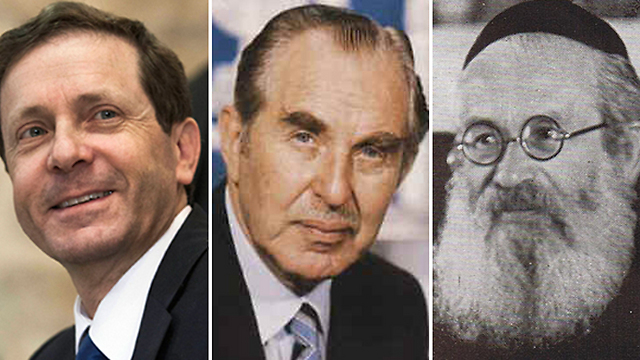 The Haim Herzog Institute for Communication, Society and Politics was founded in 2003, in the Faculty of Social Sciences at Tel Aviv University.
The institute, which is named after the sixth President of the State of Israel, Haim Herzog, was established with the intention to encourage academic research that focuses on the connection and mutual influences between the media and its wide various aspects with society and politics.
The institute is intended to promote research and applied projects in the various fields of the media, while emphasizing the various aspects of the media in society and politics.
The institute was established by Prof. Yoram Perry, who was the head of The Haim Herzog Institute until 2008.
Between 2003 and 2007, the institute initiated researches that were published on prestigious academic and public papers, such as "Public Trust in the Israeli Media", Sectoral Media in Israel", etc.
​​
About Chaim Herzog
Chaim Herzog was instrumental in the development of Israel, both as the sixth president (the state's longest-serving president) between 1983 and 1993 and as Israel's Permanent Representative of Israel to the United Nations, a general in the IDF, and a member of the Knesset before.
Among his many positions in the IDF, he was also served as defence attaché at the Israeli Embassy in the United States and Head of the Israeli Military Intelligence Directorate.
In his three years as Israel's ambassador to the UN, his most memorable moment was when a dramatically tore up the UN General Assembly resolution that equated Zionism with racism on the podium of the General Assembly.
He delivered one of the most influential speeches in the history of the UN General Assembly. In this speech, he defined the decision as racist, saying to the ambassadors that they might be held responsible for the next Holocaust that would erupt following this decision.
During his tenure as president, He was the first Israeli president to make an official visit to Germany, as well as visiting several far-east countries, Australia, and New Zealand.
Herzog's father was Yitzhak HaLevi Herzog, chief rabbi of Ireland and later Israel. He has three children, including Michael (Mike) Herzog, who serves as Israeli ambassador to the United States since November 2021, and Isaac Herzog, nowadays the President of Israel, the first son of a president to serve as such.
With the changes and trends in the Israeli society in general - and in the relevant fields in which the institute engages in particular - Tel Aviv University has decided to re-established the Haim Herzog Institute for Communication, Society and Politics, with the blessing of Isaac "Bougie" Herzog, Haim Herzog's son and the 11th President of the State of Israel.
In 2021 the institute was re-established, headed by Dr. Sandrine Boudana from the Department of Communication.
​